*This post may have affiliate links, which means I receive a commission if you choose to purchase through links I provide (at no extra cost to you). As an Amazon Associate, I earn from qualifying purchases. Please read my Disclosure Policy for more details.
This weekend we took a short drive North to Ergle Christmas Tree Farm. Being a Floridian I thought that chopping down my own Christmas tree would be one of those traditions that I just wouldn't get to experience but I was so wrong. This place was magical. Ok it wasnt Disney World or anything but I could see my kid's eyes light up as we pulled in. They had never seen anything like this before.
It's moments like this that make Christmas just so special. Traditions have become so important to me since my girls have been born and with each passing year I see how much more I treasure this time of the year.
I wanted to showcase some of my families traditions. You might find something new you would like to incorporate into your holidays or just some ideas that inspire your own traditions.
This trip to the Christmas tree farm was new but for the past few years we have always picked out our tree on Thanksgiving weekend. We love having a real tree. The smell, the look… the mess. I really don't mind the mess actually, it is worth it for this big beautful tree and the smell that fills the house.
My top and Lu's dress are from
LuLaRoe with Rachel
. This top isnt even maternity and is the most comfy thing ever. Lu loves her dress and asks to wear it everyday. I love how soft the materials are and how they fit. Stay tuned for a full feature, a giveaway and more products from this adorable line. Join Her Facebook group
here
, just submit a request and she will approve you.
Hunting down our own tree and cutting it down made the experience that much more special. A few things to note.
-Make sure that you wear comfortable shoes. If you any bit indecisive like I am then you will be doing a lot of walking. You have to pass a lot of duds to find that perfect tree.
-Bring water. There is a consession stand there but you might need to hydrate mid-chop and you dont want to walk back to the front when you are in the middle of the field.
– Bring cash. There is a cute little train ride around the property. The kids loved it and they jumped for joy when they spotted the pig and turkey.
– Make sure you plot a "non-highway" route back home. With the tree strapped to the car you don't want to be going very fast so keep that in mind when you are planning your exit. We learned this the hard way with two very hungry and very tired kids with a commute home that was double the time.
Other than that have a great time. Bring a camera for the beautiful pictures and soak in the fresh smell of pine at every step you take.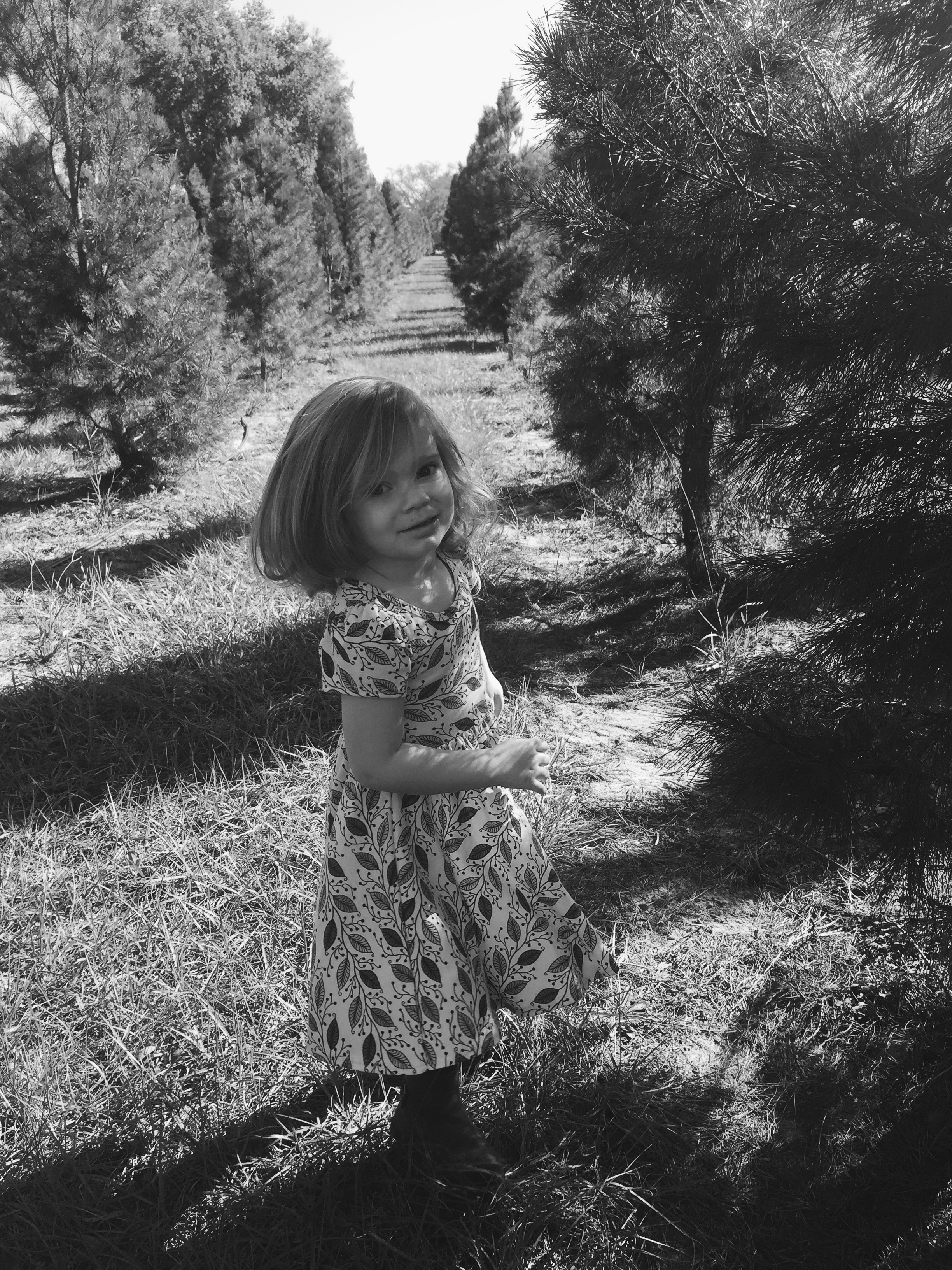 Some of our other traditions include:
1. Gingerbread houses
Prepare yourself for a sprinkle explosion. Table cloth and floor cloth recommended
2. Elf on the Shelf
3. Elf's big gift on Christmas Eve
Our elf Twinkle leaves a package on Christmas Eve night, before he goes back up to live with Santa. Inside the box were all sorts of things we could do that night. Some ideas are Christmas books, movies, little toys (we got the jingle bells and paint from the dollar spot at Target), popcorn, snacks, hot cocoa, and of course Christmas Jammies to wear that night.
5. Visiting Santa
I would say we have a pretty good record of the meltdown free Santa experience. We had some close calls though. This year we did it right with the PJ attire. Try it, it's so easy and it turns out really cute
6. Santa's footsteps
Santa brought the girls a playhouse last year. SInce it was impossible for us to put it under the tree we thought it would be fun to show Santa's footsteps from our tree to the porch. Just a little constructions paper and some flour and voila. An extra special suprise for two happy girls on Christmas morning.
6. Tree trunks
Every year we take a piece of the trunk of our tree and mark it with the date. That way we can keep that tree with us for many years to come.  One of the perks of having a real tree
Hope you enjoyed our little family traditions and hopefully you found one or two you can use in your home. We hope to build on these and would love to hear what special things you do. Leave a comment here or on FB/Instagram with what makes the holiday season special for you and your family.
SaveSave
SaveSave
SaveSave